Deny thy carbohydrate and refuse thy gluten content
Or if thou wilt not, be but sworn my love
And I'll no longer be on the keto diet.
As I enter week 3 of my vegetarian ketogenic 'journey' (as everyone seems to be calling it, rather than 'diet', because it's supposed to be a long-term lifestyle change rather than a January food fad), I can't help but feel a sense of melodramatic hopelessness.
I'm doing the thing you're not supposed to do when you're trying to trim down around the edges. I'm weighing myself religiously. A couple of days ago I was happy to see that in just 2 weeks I'd lost 2 kg (4lbs). This morning was a different story: in just a few hours my weight had crept up again by 1 kg (2lbs) even though, according to the keto sticks I've been weeing on, I am deep in ketosis (fat burning mode) now. As I'm supposed to be exercising gratitude for my body/life and not pandering to the insidious Instagram culture and weight loss industry, I'm trying not to be perturbed by this mysterious weight gain, so here are some things I know:
Weight fluctuates significantly throughout the day
My hormones affect me a lot
I'm probably just bloated
Muscle weighs more than fat
The number on the scale doesn't determine my worth
Curves are beautiful
There are many, many more interesting things to be thinking about
Instead of berating my body for marching to the beat of its own big fat drum, I'm going to share with you some positive things I've found so far in this beginning stage of my keto journey:
I've had fun finding delicious things to eat
As much as I lament the loss of my dear friend pasta, I have been forced to branch out to find some delicious vegetarian and keto-friendly meals, including no-macaroni and cheese, which I fervently recommend to anyone (whether you're keto or not). I very rarely follow recipes so everything I make is a one-off but I have more fun this way, making wild stabs in the dark rather than religiously and boringly measuring everything out.
Here's my recipe for no-macaroni cheese, if you're interested in giving it a bash:
Whack on some music and prepare to cover the entire kitchen and possibly other areas of your home with tiny, irretrievable pieces of cauliflower.
Get a knife and haphazardly hack away at your cauliflower until it is in small uncontrollable chunks.
Shove as much of it as you can into a baking dish. The bits you can't pick up will now quietly and permanently make their way into every tiny crevice in your kitchen.
Make cheese sauce out of almond milk, tofu, mustard, salt, garlic and cheese (you need a surprisingly little amount of cheese for a decent flavour) – just keep adding things until it tastes nice.
Pour sauce over cauliflower, pop some mozzarella on top and shove under grill to crisp up.
DELICIOUS, decadent and yet low-carb, keto-friendly and full of nutrients. In fact cauliflower is considered to be a 'super-food' as it has been linked with: (are you ready for this very long list that I acquired from the highly credible source justfunfacts.com?)
Reduced risk of cancer, heart and brain disorders, relief from indigestion, detoxification of the body, increased iron absorption, better eye health, hormone balance, lower risk of diabetes, colitis, respiratory papillomatosis, hypertension, stronger immune system, stronger bones and optimum cholesterol levels.
And breathe.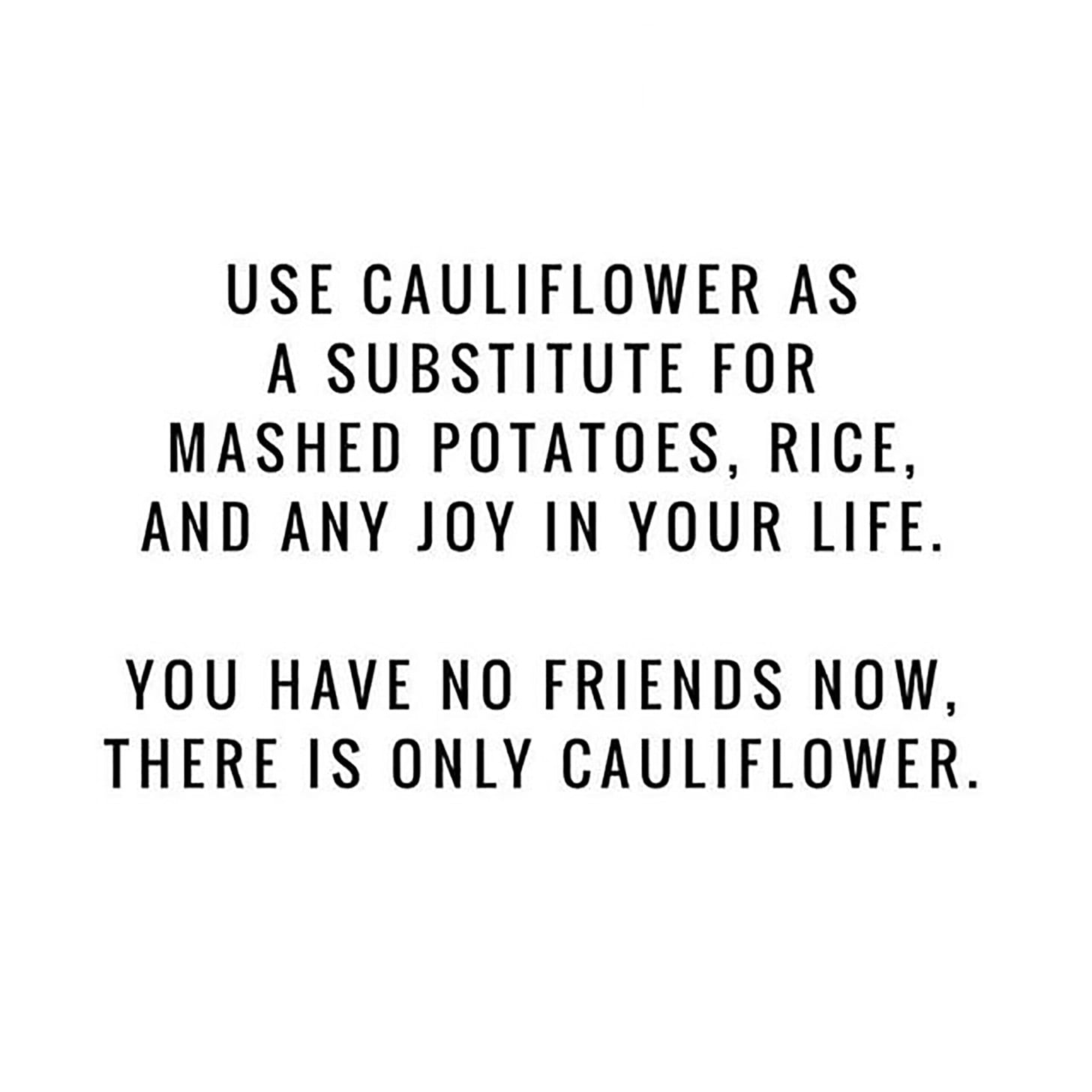 Some other delicious vegetarian keto dinners I've made include:
Roasted pepper stuffed with spicy plant-based mince
Baked almond flour and cheese nacho slices
Cauliflower rice with thai curry vegetables
Courgetti (spriralised courgette, or zucchini as the Americans and Italians call it) with tomato and garlic
Keto desserts:
Keto brownies made with: almond flour, coconut flour, a plant-based sweetener called xylitol, cocoa powder and egg
Tofu pudding: silken tofu blended with cocoa powder and sweetener
Keto drinks and snacks:
I've been drinking kombucha instead of alcohol, and plenty of water, tea with coconut milk and herbal/fruit teas. I try not to snack but if I do, it's a spoonful of almond or peanut butter.
Exercise/energy levels
In the first week of keto I really noticed a depletion in my usual energy levels and fitness. The good news is I'm now I'm back to my usual self, exercising daily with a mixture of martial arts, yoga, walking, running and weight lifting. In the absence of gyms (thanks to England's third lockdown), I really recommend subscribing to Les Mills on Demand, which has a huge choice of workouts from ballet and dance, to martial arts and weight lifting. Also all the instructors have lovely New Zealand accents.
Cravings
Yes, occasionally I stare at the sad, half-finished bag of dried pasta in my cupboard wistfully daydreaming of pasta bakes gone past. No, tofu pudding is no substitute for actual chocolate. But the food I've been eating is nutritious, filling and interesting. I'm going to continue trusting the process, being patient, exercising restraint and being kind to myself. I'll let you know how it goes.
What are your favourite go-to keto meals, snacks, desserts and drinks? Share in the comments 🙂